AI is a game changer in fashion e-commerce. Retailers are implementing various AI solutions to automate tasks, cut cost, and increase sales.
In this article, we will discuss how fashion retailers can implement Visual AI in e-commerce business.
What is Visual AI
Visual AI is a computer science discipline that trains machines to make sense of images and visual data the same way people do. With the help of visual AI, machines don't "just see" – Machines are also able to understand and perceive the meaning behind images.
The three typical applications that boost conversions in the fashion industry are AI-assisted product tagging, visual search, and visually similar recommendations.
1. Automatic Product Tagging with Rich Fashion Attributes
Manually tagging products is expensive and slow, with a high propensity for human error. Given the pace of new fashion product introductions and consumer demand, it's simply untenable to continue along this route. Visual AI technology can extract attributes from images, including color, category, style, pattern, shape, length and size.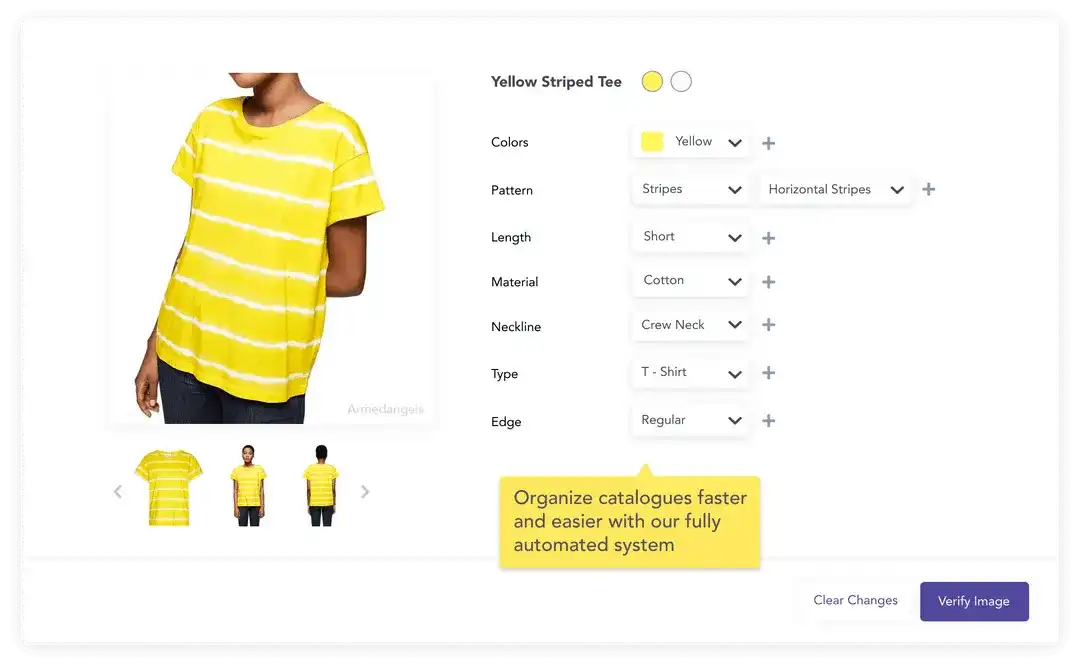 This feature not only gives e-commerce fashion stores the ability to scale and save money, but it eliminates irrelevant search results and recommendations and inaccurate categorization in catalogues, which can result in lost sales and frustration for customers.
Moreover, AI powered Automatic Tagging will improve the Efficiency of E-Commerce Operations, replace manual, repetitive and costly labeling, and process the entire store catalogue in minutes instead of days.
AI-driven fashion tags can improve conversions by:
Improving product discovery on- and off-site by delivering more accurate search results and enhancing SEO
Increasing the average order size by improving your site's recommendation engine, which leads to increased basket sizes and lower cart abandonment
Improved personalization through meaningful attributes that can shape the path to purchase according to the customers' personal preferences
Improved inventory management because AI tagging can identify trends and popular products in granular data, generating insights that purchasing managers can use to make better decisions.
2. Visual Search
Visual search creates a seamless online shopping experience.
It enables site customers to use any image, from any device, to start a product search query and find what they need, when they need it - at the click of a button. Searching for products with an image is as quick as a blink of an eye, allowing customers to quickly find visually similar products to what they already see and like without having to type any text.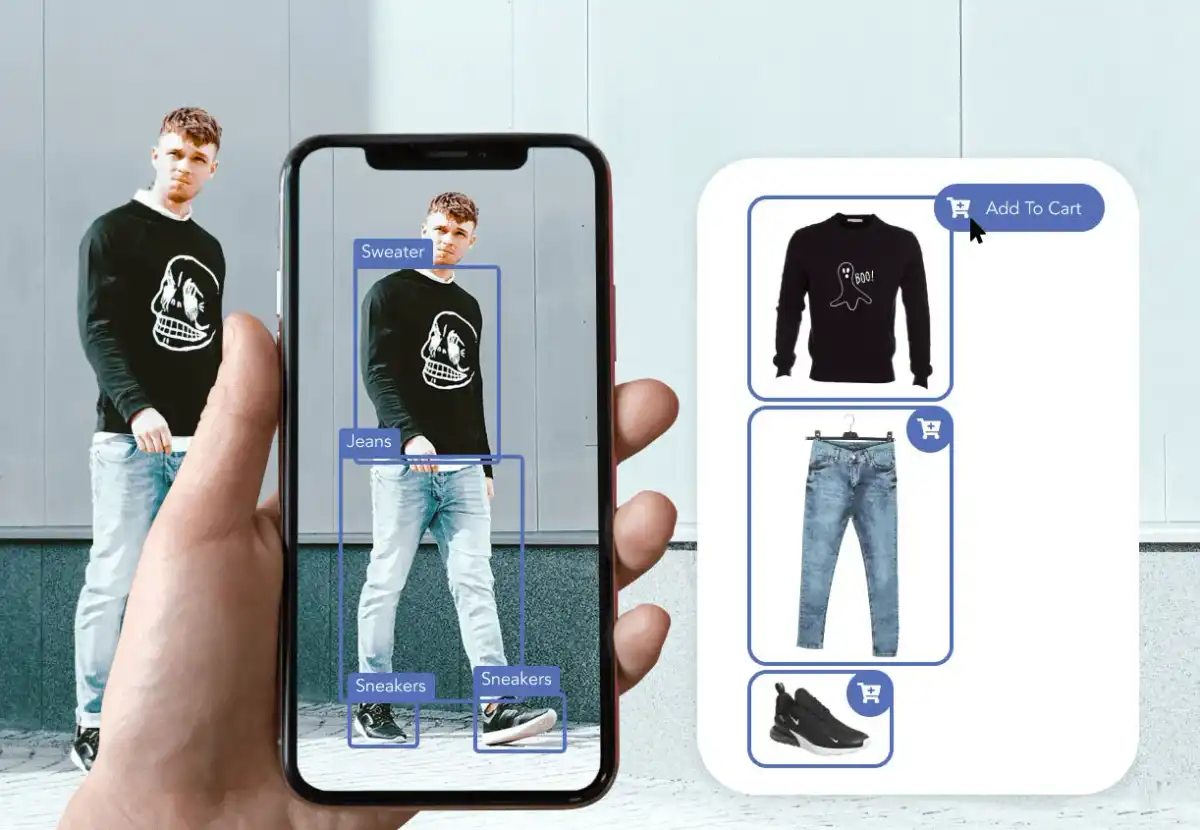 With visual search technology based on Artificial Intelligence and Machine Learning, discovering the right product has become more convenient, easier, and faster than ever.
3. Similar Recommendations
Visual AI technology enables retailers to offer site visitors visually similar products during their online journey and encourages them to discover more of the store's catalog.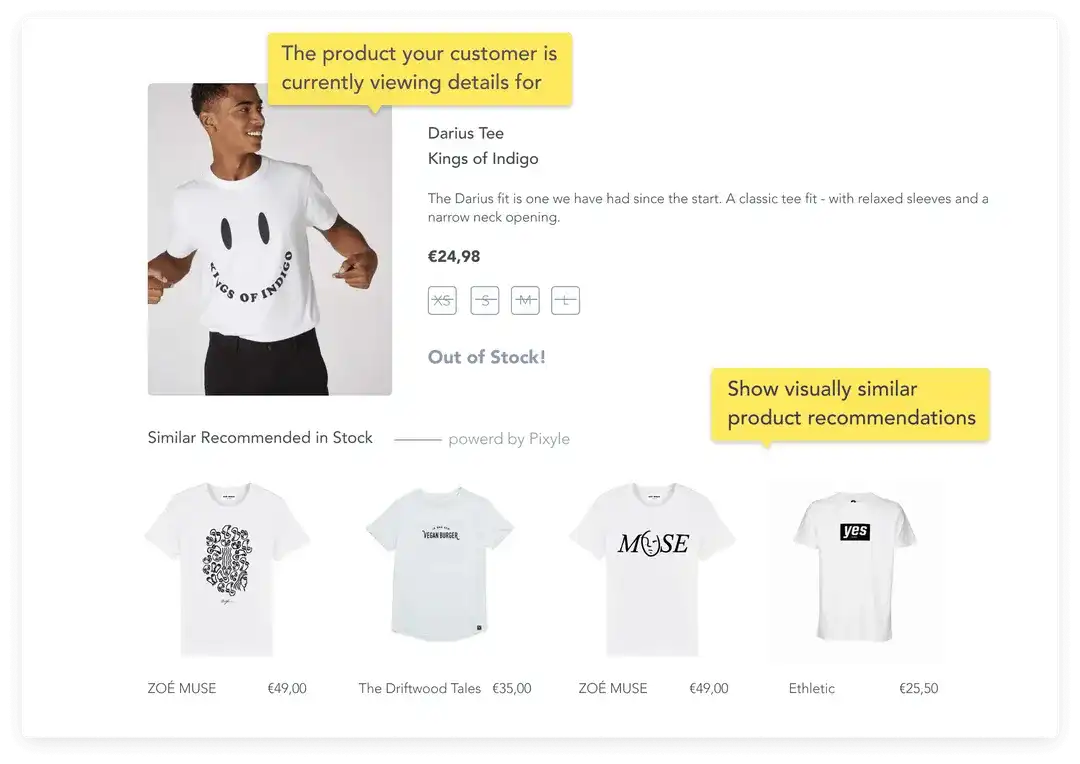 Product recommendations can instinctively influence customers in their decision to purchase an additional item, based on the similarity of what they already liked, and increase average order value
A product recommendation engine will assist retailers in personalizing the entire consumer experience of their e-commerce store with similar product recommendations. By incorporating a similar product recommendations engine, retailers can easily recommend alike items, improve the visibility of products, provide better and more relevant offerings, and increase conversions and AOV.
In Closing
Visual AI offers e-commerce fashion retailers many advantages, including reduced costs, improved customer service and innovative differentiators that will set them apart from the competition. If you want to get into the game, get in touch for a free demo.